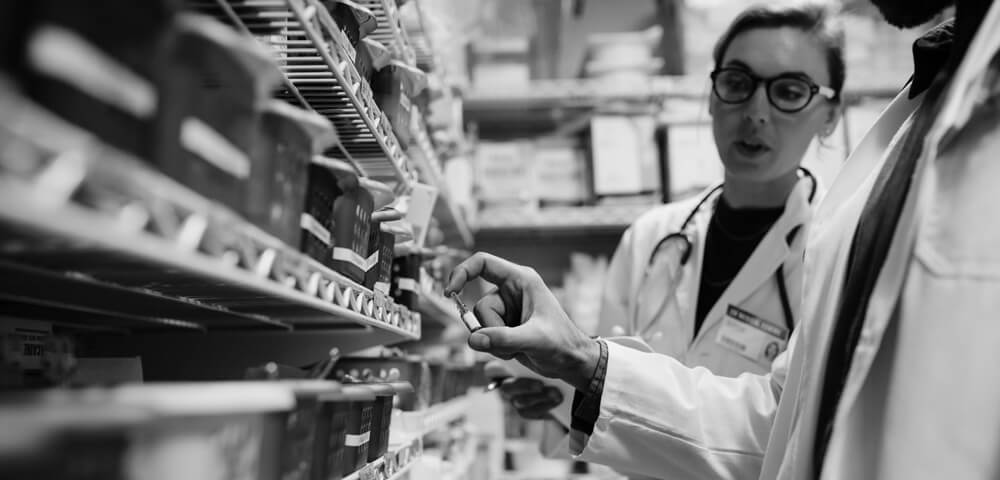 One of the benefits hazardous waste management companies can offer a pharmacy is expertise regarding compliant disposal of expired medications. Because it is common for various medications to expire before use in a pharmacy and they require proper disposal, stay up-to-date on federal and state regulations for compliant medication disposal for hazardous and non-hazardous drugs. Consequences for non-compliance are severe.
01   /  Disposal of expired medication: what pharmacies need to know 
Regulations and rules regarding the disposal of expired medications were put in place to reduce the risk of accidental use by those who find them in the trash and prevent them from making their way into those who would abuse them. These rules also help protect the environment.
Some expired medicines are classified as hazardous pharmaceutical waste. That means they may contain components that are toxic, reactive, ignitable, or corrosive in nature. Steps must be taken to ensure safe and proper disposal.
In the past, expired and even non-expired but unused pharmaceuticals of all kinds were simply dumped down sink or floor drains or flushed down toilets into sewer lines. This is now illegal. In 2019, the Environmental Protection Agency (EPA) banned this practice.
Even so, some pharmacies still dump their expired medication in the trash or down the drain, which introduces extremely dangerous elements into the environment and puts a pharmacy at risk of fines and other consequences for not following the law as it relates to proper pharmaceutical disposal.
Fines for non-compliant pharmaceutical waste disposal (expired medications or not) are serious. Numerous agencies can levy fines, including:
Resource Conservation and Recovery Act (RCRA) $74,552 per day, per violation
Clean Water Act (CWA) $54,833 per day, per violation
Toxic Substances Control Act (TSCA) $39,873 per day, per violation
Safe Drinking Water Act (SDWA) $57,317
Fines for non-compliant disposal of hazardous waste can accrue from numerous organizations for the same violation.
02   /  

What medications must be properly disposed of?
All medications have a shelf life - a period of time where that medication remains at full potency and stability. After that shelf life has passed, a pharmacy must properly dispose of it. In most cases, that means the pharmacy will send the drug (if unopened) to a reverse distributor, or dispose of it through a licensed and experienced waste management company.
A list of hazardous pharmaceutical wastes can be found within the EPA's listing of P- and U-listed drugs that meet the definition and characteristics of hazardous waste found in the Code of Federal Regulations (CFR) Title 40.
03   /  

Reverse distribution and pharmaceutical waste management
In the case of an unused or unopened medication that has simply expired, you might be able to send that to a reverse distributor. Reverse distributors send medications back to the manufacturer for credit. The pharmacy might or might not receive payment from the reverse distributor for that transaction. Be aware that reverse distribution is only an option if that medication is considered "reusable," meaning it hasn't been opened, used, or contaminated.
Before opting for a reverse distributor, consider their processes and costs, such as add-on fees that can include shipping labels and costs for disposal for non-creditable, hazardous, or non-hazardous pharmaceuticals.
Disposal through a waste management company is also an option. If a pharmacy is unable to utilize reverse distribution for expired pharmaceuticals, seek out professionals and rely on a reputable waste management company such as MCF Environmental Services, with years of experience in the field. 
An experienced waste management company will provide compliant pharmaceutical waste containers needed for proper segregation of pharmaceutical waste, and will also possess the necessary permits and insurance to then pick up and transport that hazardous waste.
04   /  

About pharmacy generator status
Check with state laws regarding pharmacy generator status, which may differ slightly in some cases (check your state here) from the federal definitions or categories regarding hazardous waste pharmaceuticals.
The EPA defines hazardous waste generator status categories as follows:
Very small quantity generator (VSQG) – generate 220 pounds or less per calendar month
Small quantity generator (SQG) – generate more than 220 pounds but less than 2,204 pounds per calendar month
Large quantity generator (LQG) – generate more than 2,204 pounds per month
Storage time and limits apply to each category.
However, if your pharmacy has more than 2.2 pounds of acutely hazardous waste on-site at any given time, a pharmacy officially becomes a "large quantity generator." In that case, taxes are higher, costs to transport increase, and paperwork and reports required by the EPA also increase.
If a pharmacy generates more than 2,200 pounds per month of U-listed waste, D-listed waste, and/or non-hazardous waste, the pharmacy must redefine as a large quantity generator.
05   /  

Benefits of working with a reputable waste management company for hazardous waste removal
Working with an experienced and reputable waste management company for hazardous pharmacy waste disposal comes with numerous benefits, including in-depth knowledge of federal and state pharmaceutical waste laws and regulations.
A trustworthy company can provide and guide the hazardous waste reporting requirements and processes for hazardous waste—from the initial stages through treatment and disposal.
This includes: 
Yellow hazardous waste labels for your pails
Paperwork regarding the generation and origins of such waste
Reports detailing everything shipped that year
A company experienced with pharmaceutical waste can also provide guidance for waste segregation that facilitates a stable generator status. Such a company can also deliver separate pails for P-listed waste (anything acutely hazardous, such as Warfarin) and U-listed and D-listed wastes. Such segregation ensures that a pharmacy can accurately gauge and potentially avoid going over the limit of 2.2 pounds of acutely hazardous materials.
A waste management company can also help categorize and list the pharmaceutical formulary, which details all the drugs on-site and their waste codes. The medical formulary guides pharmacies to accurately determine what gets segregated into what category.
For more information about how an experienced and reputable company like MCF Environmental Services can help any pharmacy compliantly and safely dispose of expired medication, feel free to contact a representative of MCF Environmental Services, a waste management business.