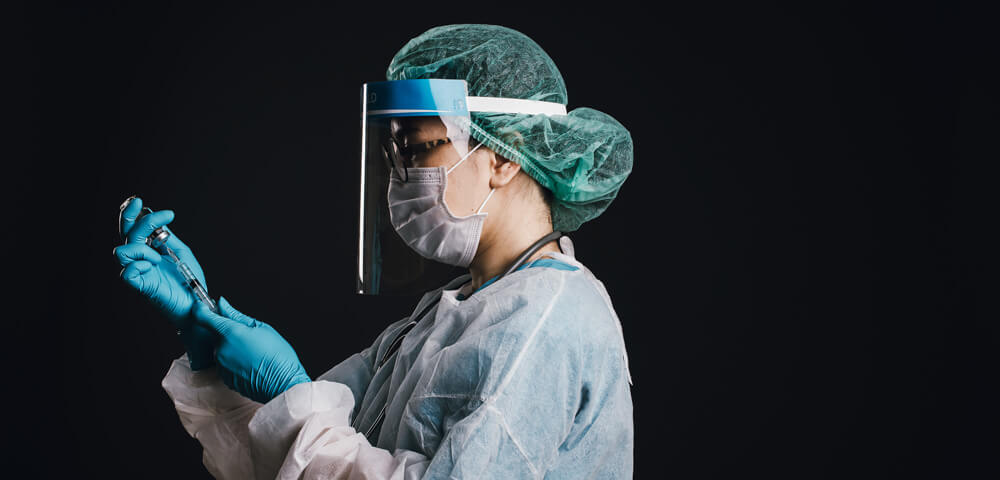 The #COVID19 pandemic has challenged every facet of our working and community lives over the past 12 months, and no more so than the way healthcare has had to adapt to a new normal of patient-care and service operations. In the past year, our team at MCF have been working tirelessly to support every industry sector in navigating increased needs bought upon by COVID; from driving increased capacity within our treatment facility and securing our supply chain, to working one-on-one with customers in tailoring service pickups and transport scheduling to their changed business hours or waste collection needs.
02   /  Handling and Disposal of COVID-19 Waste
Download our Poster on how to correctly segregate COVID-19 waste here.
The Centers for Disease Control and Prevention (CDC) has established that medical waste generated from the treatment of COVID-19 patients be managed in accordance with routine procedures, i.e. as "red bag waste". There are no additional packaging or transportation requirements issued by the Department of Transportation (DOT), for regulated medical waste or biohazardous sharps.
The correct handling and disposal of COVID-19 related wastes is essential to managing correct waste segregation and averting inflated medical waste disposal costs. Over the last 12 months we have worked with many of our existing customers to try and support heightened waste segregation programs within skilled nursing and nursing homes particularly, as costs and medical waste volumes were going through the roof with over-categorized PPE, linen and other miscellaneous items that would ordinarily be treated as general trash. COVID-19 waste follows the same principles as regulated medical waste – if it's blood contaminated or infectious, it's medical waste. By definition, Medical waste (or red bag waste as its commonly known) is:
"any item contaminated with blood, body fluid to a saturation level that is pourable, flakeable or drippable, or been in contact with an infectious patient or agent. This waste stream also includes sealed disposable sharps containers, visibly contaminated PPE and visibly bloody plastic tubing."
03   /   Handling and Disposal of COVID-19 vaccine waste    
As America is responding to the vaccine rollout and instituting popup sites and other temporary locations for widespread vaccinations, MCF has been on the front foot of supporting customers with container rollouts, additional waste pickup services, and pre-planned coordination of sharps container placement and medical waste mapping for new treatment locations. Through our partnership with Daniels Health, we have not only been able to supply customers with standard disposable containers for small-capacity sites, but also offer the rollout of the reusable Sharpsmart system for hospitals and mass vaccination sites. OSHA requires that when an immunization is being administered, a sharps container must be located as close as possible to the point of use; we are not only able to supply containers, but work with on-site administrators to ensure safe mounting and placement of sharps containers for safe needle disposal.
All COVID-19 vaccines currently being administered (Pfizer, Moderna, Johnson/Johnson) are preservative free and classified as non-hazardous medication if not empty or completely administered. However, empty pre-filled syringes, even safety syringes, are considered sharps waste. The following recommendations apply for COVID-19 vaccine waste:
Manufacturers recommend that fully discharged vaccine vials are discarded in sharps containers
Vial trays are recommended to be discarded as medical waste
Vials with NO remaining vaccine should be disposed of in a sharps container
Dry ice (used to maintain temperature requirements for vaccine storage and shipping) should be handled and disposed of according to this issued guidance.
Syringes with NO remaining vaccine are to be discarded as sharps
Download our Poster on how to correctly dispose of COVID-19 vaccine waste here.
Note: Sometimes unused vaccine and diluent doses, unopened vials, expired vials, and potentially compromised vaccine may be returned for credit, even if they must be discarded. Contact the state or local immunization program or the vaccine manufacturer for vaccine-specific information. Open and broken vials and syringes, manufacturer-filled syringes that have been activated, and vaccines pre-drawn by providers cannot be returned and should be discarded according to state requirements.
04   /   Handling and Disposal of Dry Ice
Dry ice is being used heavily for the transportation and temperature-controlled shipping of COVID-19 vaccinations, and its important to know how to safely handle it.
Dry ice changes directly into the gaseous form, it does not "melt" but it sublimates. It takes about 24 hours for a block of dry ice to sublimate completely. It's important for waste handlers or clinical staff to let dry ice sublimate at room temperature (in its styrofoam shipping container) in an area that is secured and is amply ventilated. It is important that no staff are nearby for this process as dry ice is basically compressed carbon dioxide and excess exposure can result in suffocation. After the dry ice has sublimated entirely, you must dispose of the container as well as the gloves that were used during the process
PPE AND TIPS FOR SAFE HANDLING AND DISPOSAL OF DRY ICE
Wear appropriate eye protection, including goggles and/or a face shield, as well as a laboratory coat
Use tongs to handle dry ice when possible
Use loose-fitting, thermally insulated gloves to manually handle dry ice
Nitrile exam gloves will not provide enough protection
Never handle dry ice with bare hand
Never dispose of dry ice in the Sink, toilet, drain or General Garbage
Download our Poster on how to correctly handle Dry Ice here.
05   /   Engaging a Waste Partner for COVID-19 waste disposal
Whether you are a long-term care facility, retail pharmacy, clinical, or hospital location, MCF are able to provide different tiers of sharps and medical waste management that is tailored to the logistical, site and waste volume considerations of every facility. If you have questions on the handling, disposal or treatment of any waste streams being generated from COVID-19 patient treatments or COVID-19 vaccination administration, don't hesitate to reach out to one of our expert team for support.
Alternatively, fill out our quote form for a free non-obligation quote on sharps or medical waste pickups for your facility.
Thank you for reading our blog