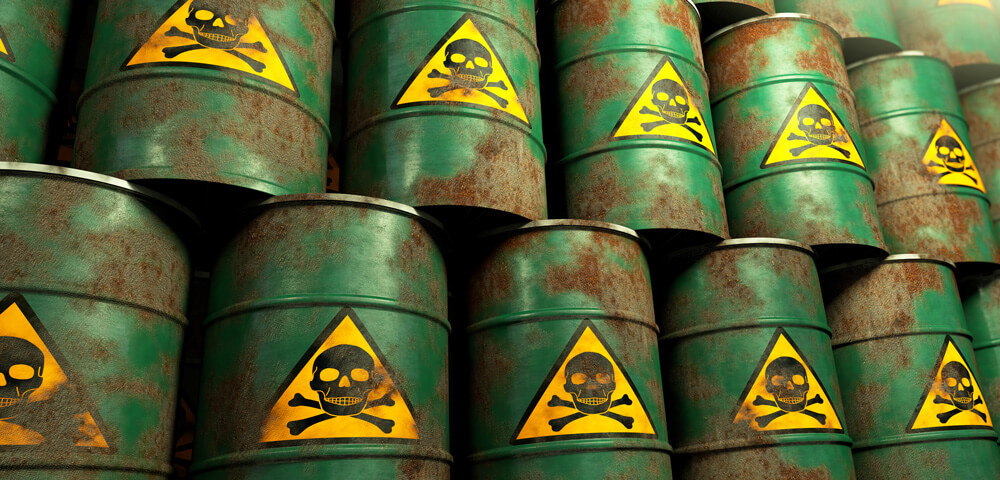 If you're inadvertently committing hazardous waste violations, it can mean big trouble for you and your business. Whether you know you're violating the rules or not, you are equally liable to face up to the financial and legal penalties, so make sure to avoid the following six violations.
Common Hazardous Waste Violations (You Might Not Even Know You're Making)
Why Does Proper Hazardous Waste Management Matter?
Hazardous waste violations are problematic for several key reasons. First—and most important—is safety. Improperly handled waste (especially hazardous material) can pose health risks for anything or anyone that comes in contact with it. That includes individuals as well as environmental factors, such as drinking water.
You are also financially liable for a litany of fines if you aren't using the proper protocol when it comes to your hazardous waste removal. Again, even if you don't know what you're doing is a violation, it doesn't matter! You are still liable, so educating yourself and anyone dealing with your hazardous waste disposal is vital to your continued success.
Violation #1: Having Issues with How to Label Hazardous Waste
Labeling is one common place people fail to follow all the necessary rules. Make sure everything written on the form is accurate, including the right EPA waste code. This identifying information needs to be present on placards as well as the hazardous waste manifest. In emergency situations, this ensures that first responders know exactly what kind of material they're dealing with—even if they can't enter the truck to get to that manifest.
Violation #2: Using the Wrong Forms (Including MSDS and SDS Forms)
Whether you're talking about manifests or SDS sheets, you need to be using the most up-to-date and relevant forms possible to document your proper disposal of hazardous waste. A lot shifts and changes in the waste management industry, and being behind the times can open you up to fines and other penalties. The recent global shift from MSDSs to SDSs is just one example of many, so make sure you and everyone at your business stays informed about this possible paperwork-related violation.
Violation #3: Having Expired Hazardous Waste Lying Around
Labs, universities, and manufacturing plants are particularly vulnerable to this violation. Never let hazardous materials simply sit around because you don't want to spend the time, money, or effort to properly deal with it. Those items could eventually leak, catch fire, or pose any number of safety problems. There are also time limits on how long you can keep hazardous waste onsite, but that limit depends on a number of factors, including your EPA generator status.
Violation #4: Failing to Have a Contingency Plan
A thorough contingency plan includes the people to call in case of an emergency and how to safely get out in the event of a fire, explosion, or other unplanned incident involving hazardous waste. Large companies typically have these because they can finance employees who deal with these environmental issues. Small companies, though, might not even know what a contingency plan is, how to create one, or that it's legally required.
Violation #5: Offering No Training (or Inadequate Training) Regarding Hazardous Waste Safety
Everyone who deals with your hazardous waste must be knowledgeable about the best practices—for personal safety and the safety of others. Even if you think something is obvious, it never hurts to make all safety rules explicit. When hazardous materials are involved, improper protocol can quickly lead to situations that legitimately endanger the lives of everyone at your facility. Training, therefore, is essential. If you don't feel equipped to offer this, make sure to work with any number of reputable hazardous waste management companies that can provide this.
This training should always happen at the earliest stage possible. Onboarding new employees about hazardous waste is vital—both in terms of general practices and how that facility specifically handles practices internally.
Violation #6: Improperly Handling Mercury
The EPA is becoming increasingly strict about proper mercury disposal. Even seemingly benign actions, such as putting batteries or bulbs in the standard trash, constitute improper disposal and can lead to fines. Everyone at your company needs to be both aware of this and committed to following company protocol in this regard.
For more information about hazardous waste violations and why it's so important to avoid them, please feel free to contact a representative of MCF Environmental Services, a hazardous waste management company.