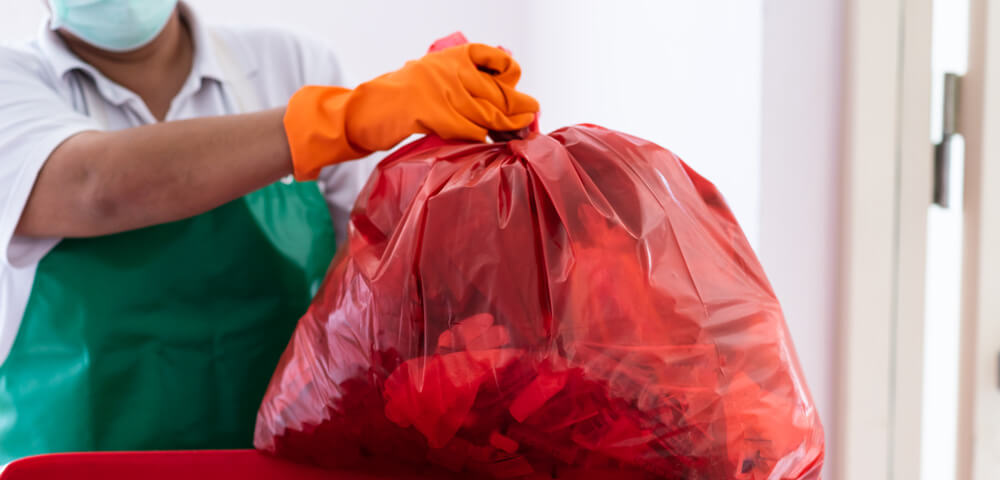 Every state has their own disposal laws for medical waste, and waste management in South Carolina is no exception. In addition, numerous overarching federal laws apply to manufacturers, medical facilities, or any producer of various waste streams, but those are not the only laws that need to be acknowledged and followed. State-specific laws are just as relevant – and important. If federal and state laws are not followed, your medical facility is as liable to face fines or other consequences.
01   /   What Your South Carolina Medical Waste Disposal Management Process Should Consider
Following federal and state regulations for medical waste disposal comes first with any well-drafted waste management plan. It is crucial to acknowledge that both federal laws and state require compliance. Your medical facility is, therefore, obligated to comply with both sets of laws.
Federal regulations for medical waste management streams can be found within the Environmental Protection Agency (EPA) and its Resource Conservation and Recovery Act (RCRA) laws. 
The state of South Carolina's waste rules are found within the state's Code of Regulations. For example, Regulation 61-105 focuses on infectious waste management, while hazardous waste regulations are found in Regulation 61-79. South Carolina's medical waste management and disposal regulations can be further researched within their Department of Health and Environmental Control (DHEC). Refer to the Permitting & Regulation found under the Land and Waste Management section for more detailed information.
In many cases, state laws regarding waste management and specifically healthcare waste management and disposal are more stringent than federal regulations. When one set of laws is stricter than the other, your facility must comply with the more stringent of the two. That certainly holds true for South Carolina.
If you operate in any facility that produces medical waste in South Carolina, it's important to realize that state laws may not only vary from the federal rules, but from other states as well. Therefore, North Carolina laws can be totally different than South Carolina's, and both those can differ from Georgia waste management regulations.
02   /   

Register Generator Status with the South Carolina Department of Health and Environmental Control (DHEC)
If you produce any kind of hazardous or infectious material, you need to register through South Carolina's DHEC. This alerts the governing body that you will be producing this kind of waste at your site. Your generator status is also associated with varying fees according to the volume of waste you generate per month.
Federal regulations per the EPA determines generator status, and as such, South Carolina must comply. However, South Carolina states that a generator who produces less than fifty (50) pounds of infectious waste a month is exempt from such provisions, but they must still follow guidelines for compliance for disposal processes. Refer to Section 44-93-100. The form for registering as an infectious waste generator can be found here along with fees.
Small quantity generator (less than 50 pounds per month): No fee
Large quantity generator (50 to 999 pounds per month): $150 (annually)
Extra-large quantity generator (1,000 pounds or more per moth): $600 (annually)
You will be assigned a registration number that specifies your location as the site of waste generation, and this number is required on any container that comes from that location. This label will also include information such as the name of your facility to aid identification should any issue arise.
03   /   

Properly Label Waste
Your South Carolina waste management plan should also ensure that waste is properly packaged and labeled prior to storage or transportation off-site. In states such as Georgia, you are only required to list the number of boxes of waste generated. However, in South Carolina, you must not only accurately label boxes of waste generated, but also list the weight of each box before it's loaded on the truck for transport.
Waste manifests are required for infectious waste in the state and forms are available from the Bureau of Land and Waste Management here. The Department of Transportation (DOT) requires information regarding containers that contain regulated and/or infectious waste, their total number, as well as total weight. Manifests are required to be sent to the destination facility by the generator. Transporters and the destination facility as well as the generator all maintain copies of the manifest as it goes through the shipping or transportation process. 
Follow specific guidelines for classification, packaging, marking, and labeling to comply with South Carolina regulation R.61-105 and the Federal Code of Regulations (CFR) 49 Parts 100-180.
04   /   

Avoid Fines by Working with a Medical Waste Disposal Company
One of the biggest keys to successful South Carolina waste management processes is working with a reliable, professional waste management company. This ensures that you can provide accurate documentation of your waste management plan. Documentation is essential to prove that you are following the letter of the law in the event of an inspection or audit.
In the medical waste disposal industry, the generator is responsible for their generated waste—even if you're working with a third party. Therefore, make sure that any third party such as a waste transporter or waste disposal company is knowledgeable about South Carolina and federal regulations.
An experienced and professional medical waste disposal company like MCF Environmental Services will know and follow every rule to the letter, saving generators from having to pay fines for noncompliance. Some examples of those rules include the following:
Documentation must include details such as the date the waste was treated, the facility where it was treated, and the actual person who handled the treatment.
Documentation must be returned to you (the generator) within fifty days of medical waste pick-up.
Once a box is sealed, it must be picked up within fourteen days if not refrigerated, and thirty days if refrigerated. Therefore, a reputable medical waste management company will often advise their clients not to seal boxes themselves because the clock starts ticking from the moment that box of waste is sealed. (If an inspector sees sealed boxes lying around your facility, that could be a red flag that you're out of compliance.)
For more specific information about medical waste management in South Carolina or general information about best waste disposal practices, contact a representative of MCF Environmental Services, a waste management company based in Atlanta, Georgia.