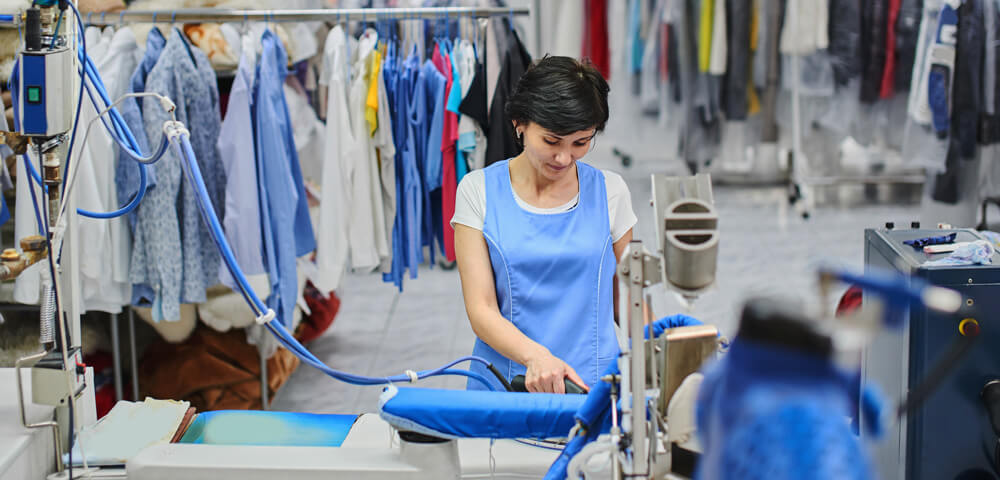 If you run a dry cleaning business, it's essential that you are properly disposing of hazardous waste created through that dry cleaning process. This is important, of course, for environmental preservation and safety, and it also safeguards your business against fines or other costly penalties. This step-by-step process includes the identification, transportation, and disposal of perchloroethylene (PERC), hydrocarbons, and/or any other hazardous material or byproduct created through dry cleaning.
Best Practices for Dry Cleaners to Identify and Properly Dispose of Dry Cleaning Waste

Properly Identifying Your Products and Byproducts
The first step for any dry cleaner is to determine what that dry cleaning business generates—either hazardous waste as dictated by the Resource Conservation and Recovery Act (RCRA) or nonregulated waste.
This is often determined through the safety data sheets (SDSs) that accompany all chemicals and products used within the industry. SDSs are an excellent place to determine if the materials are technically hazardous or not. However, be aware that some state governing bodies have the authority to insist on additional analytical testing to confirm the status of a product (hazardous or not). This order can override a company's interpretation of SDSs.
Finding a Dry Cleaning Waste Company to Help
If you or another body has determined the dry cleaning business does produce hazardous material, your next step is to find a company that's equipped and able to handle that material. This includes running the tests to determine what's hazardous and providing full analytical reports of the findings that meet the rigid standards set out by state-governing bodies.
Containerizing Hazardous Materials
Disposing of anything hazardous means more than just separating it from standard, nonregulated waste. It involves placing anything and everything determined as hazardous in the proper containers. It also means profiling and identifying those hazardous materials—including but not limited to PERC or hydrocarbons (both solvents used in the dry cleaning process).
If your dry cleaning business works with a company trained and qualified in hazardous material management, that company should supply you with the proper containers for disposal.
It's also important to know what is required in your state. Some require dry cleaners to place waste containers on secondary containment trays. If you're unsure of the regulations used in your state, ask your qualified, licensed waste management company for confirmation or guidance.
Transporting Hazardous Material
Once the relevant material has been identified and containerized, transport is the next step. The most important factor to remember here is that dry cleaners must always work with licensed, permitted waste transportation companies. Make sure that all permits and licensing are specific to transport.
Disposing of Hazardous Waste
The company that is licensed and permitted for transport should then take all identified, labeled, and containerized hazardous material to a licensed, permitted waste treatment, storage, and disposal facility (TSDF).
As the dry cleaner, make sure the waste hauler furnishes all relevant documentation to confirm waste was both properly transported and disposed of. This paperwork should include multiple universal waste manifest copies. If the waste is designated as RCRA hazardous PERC, land disposal restriction forms must also be provided.
For more information about how dry cleaners must properly identify, transport, and dispose of any dry cleaning hazardous waste material (PERC, hydrocarbons, and more), please contact a representative of MCF Environmental Services, a  dry cleaner hazardous waste disposal company located in Georgia.